How to Find Work from Home Jobs: A Comprehensive Guide
In today's world, work from home jobs are becoming increasingly popular. The internet and technology have made it possible for people to work from the comfort of their own homes, providing flexibility and convenience. However, finding legitimate work from home jobs can be challenging, and it's essential to be careful when searching for these types of positions. In this article, we'll explore different strategies for finding and securing work from home jobs, including how to search for jobs online, writing an effective resume and cover letter, avoiding job scams, the demand for specific skills in work from home jobs, and starting a freelance career or business.
Searching for Work from Home Jobs Online
There are several job boards and websites that specialize in work from home jobs, making it easy for job seekers to find relevant positions. Some of the top websites to use include Upwork, FlexJobs, Remote.co, and LinkedIn. These websites allow individuals to search for job postings by keyword, location, job type, and other parameters.
When searching for work from home jobs online, it's important to use specific keywords relevant to the type of job one is looking for. Job titles such as 'remote,' 'telecommute,' or 'work from home' can help narrow down the search results. Moreover, networking on LinkedIn and joining online communities relevant to the field can also help individuals find job opportunities.
Writing an Effective Resume and Cover Letter for Work from Home Positions
When submitting a resume for work from home positions, it's crucial to highlight skills and experience relevant to the type of job being applied for. Remote work often requires excellent communication skills, self-motivation, time management, and the ability to work independently. It's crucial to indicate such skills on the resume to maximize chances of success.
Similar to a traditional resume, one should follow standard formatting guidelines, including using a professional tone while avoiding grammatical errors. Additionally, when submitting a cover letter, it's essential to mention that the applicant has experience working from home or is interested in doing so. Highlighting any accomplishments working remotely can set an applicant apart from others and increase the likelihood of obtaining the position.
Avoiding Work from Home Job Scams
With the increase in popularity of work from home jobs, several scams have emerged to exploit individuals seeking employment opportunities. To avoid such scams, individuals should be wary of job offers that guarantee high pay, promise a significant amount of work with little experience, or require an individual to pay to get started. It's also essential to conduct research on the company offering the job and reach out to current or former employees to ensure the job is legitimate.
Moreover, individuals should be cautious when providing personal information to an employer, and they should never provide bank details, credit card information, or any other sensitive data without proper verification. Any legitimate employer would not ask for such information upfront, nor would they ask for money from prospective employees.
The Demand for Skills in Work from Home Jobs
Several skills are crucial for work from home jobs, including excellent communication and organizational skills, time management, and self-motivation. Being proficient in specific software or platforms relevant to the job can also increase the likelihood of securing employment. Online courses, certifications, or additional training can improve one's skill set and give individuals an advantage in the job market.
Furthermore, creating an online portfolio showcasing skills and achievements relevant to the job can also help in landing the desired job. Having a compelling portfolio can set candidates apart from others and give the employer visibility into the candidate's work experience.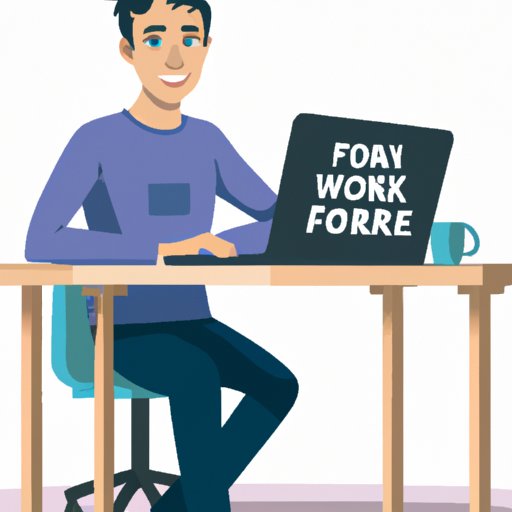 Starting a Work from Home Business or Freelance Career
Perhaps working from home may present an opportunity for individuals to start their businesses or freelance careers. Individuals passionate about a specific skill or craft can turn it into a profitable venture by offering professional services or products. Online platforms such as Etsy, Amazon Handmade, or eBay provide an easy way for individuals to sell their handmade or unique products.
Creating a portfolio and showcasing works online can aid in landing prospective clients, building credibility, and increasing visibility on social media platforms. Freelance work can also be an excellent option for individuals looking for flexibility and the ability to work on different projects. Online platforms such as Fiverr, Freelancer, and Upwork are examples of platforms where individuals can find clients and establish themselves as freelancers in their respective fields.
Conclusion
Work from home jobs can be a fantastic opportunity for individuals looking for flexibility, convenience, and an appropriate work-life balance. While working remotely has several advantages, it's still important to be mindful of scams and to take specific steps to secure a legitimate job. By using relevant keywords, networking, developing the necessary skills, avoiding scams, and showcase one's work and achievements, individuals can maximize their chances of success in finding the perfect work from home job.
If you're a job seeker, we encourage you to take action today and start your journey of finding a work from home job. Begin by researching the different job boards and websites, developing your skills, and showcasing your accomplishments and achievements. With patience and dedication, you can find the perfect work from home job and enjoy the benefits of remote work.